HOTSPOT FREE SOCIAL: CREATE THE BUZZ FOR YOUR BUSINESS

While giving out free Wi-Fi, you can Promote your own Facebook Page, get new "LIKEs" and social recommendations from your customers. This increases your business' visibility, customer engagement and sales.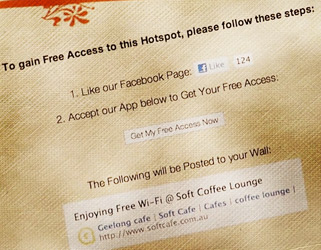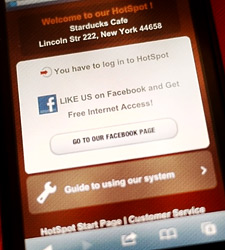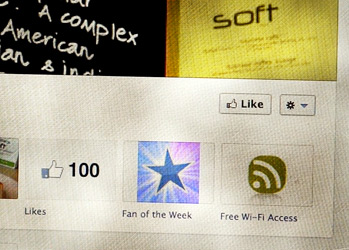 HOW DOES IT WORK?
After connecting to your Wi-Fi network, customers are forwarded to your own splash page. Based on your setup, they may have to like your page before they can use the internet for free. A message can also be posted on their walls in the background,like
"Enjoying free internet @ Starducks Cafe, great! :)".

ADVANTAGES OF FACEBOOK LIKEs
More Engaged Users. New "Likes" means more engaged users. According to Facebook, those who click the Facebook Like button are "more engaged, active and connected than the average Facebook user."
Expression of Affinity. New "Likes" help to build a more personal relationship with your customers.
Viral Syndication of Content. Whenever you post something to your Facebook Page, it has the potential of appearing in the news feed of your Fans. The more they interact with your page the more people you can reach. You can also post a message on their walls about your business which increases the interaction.
Boost the traffic to your page/business. According to Facebook the average user has 130 friends who can also Like your posts once they are published. That means, depending on the number of fans you have, multiplied by the number of friends they have, your content could achieve wide viral syndication. That can lead to increased traffic to your Facebook Page as a result which means more customers and more sales.
Learn More About Your Customers. The analytics component of your Facebook Page, called Insights, provides detailed data on fan activity, as well as demographic information such as age, gender and geographic location, all of which can be important for the purposes of market research.
HOW MUCH IS A "LIKE" ON FACEBOOK WORTH?
That is a million dollar question. Some study says they can worth $136.48 USD, but this can be significantly more, or significantly less depending on your business. An average fan may participate with a brand ten times a year and will make one recommendation. But an active fan may participate thirty times and make ten recommendations.
Ritz-Carlton Chief Marketing Officer Chris Gabaldon talks about the hotel company's social media effort
MAIN FEATURES
No need for passwords. You don't need to set up a password and spell it for your customers. This can save valuable time for your staff.
Customizable Wi-Fi Start Page. You can choose from built-in templates, then you can promote specials & offers by customizing it.
Collect User Data. Verified e-mail addresses are collected from each user who accept the app which allows free internet access. You can also collect additional data like phone number or any information by defining custom questions (e.g. guest feedback).
Monitor Internet Usage. You can set bandwidth and traffic limits for each user. You can track bandwidth consumption, time spent logged-in by users, create usage reports by location or router. Check online users, ongoing or closed sessions.
Cloud-based Management. You can modify splash pages, check service status from the web based Control Center which supports multiple locations under the same account. You can also create Secondary Operators which can access specific locations only.
Works on variety of routers. The service is compatible with many router and firmware types, however we recoomend to use it with Ubiquiti products. You can also order a Hotspot In a Box packages which includes a pre-configured router from our Wi-Fi Shop (accessibble after creating an account).