HOW TO START YOUR OWN WI-FI HOTSPOT?
To answer this question, we have to explore a few things first. What are the main advantages to operate a HotSpot? Should i give the internet access free for my customers or charge them? See below...
DEVELOPMENT OF WI-FI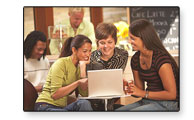 Wi-Fi is the fastest growing segment of the internet. The number of those using their own laptops, PDA or Wi-Fi phones is growing dynamically and they need internet access. Now, using the Wi-Fi technology you can gain money, while providing premium service to your guests.
The development and the spread of Wi-Fi technology has started to grow exponentially in the past years. According to a survey conducted in 2006, close to 8 million Wi-Fi users will use the public Wi-Fi Hotspots by the year 2007, generating income of hundreds of millions of dollars. Today, the majority of the laptop producers, like Hewlett Packard, Sony, Dell, Toshiba, Apple and IBM are building the Wi-Fi antenna into the laptop, thus it has become a standard accessory as the 56K modem used to be. You can be part of this technological development with the help of our "INSTANT HOTSPOT" service.
WHY IS IT WORTH TO OPERATE YOUR OWN HOTSPOT?
There are thousand of HOTSPOTS operating around the world and their number raised dynamically and literally hundreds of thousands of businesses can't be wrong. By offering Wi-Fi hotspot services to their customers, they're gaining traffic, recognition, and affluent customers, not to mention keeping up with the competition. The visiting foreigner are specifically looking for HotSpots and the rather choose a place where they can access the internet using their own computers. Reading e-mails has become a daily routine, and the internet is necessary to operate a growing number of other services too (phone calls via the internet using Skype videoconference etc.)
WHAT KIND OF LOCATIONS ARE SUITABLE FOR OPERATING A HOTSPOT?
These type of locations are perfect for setting up a Wi-Fi HotSpot:
Airport, Bar, Beach, Bus station, Cafe, Campground, Convention center, Disco, Downtown area, Gas station, Golf course, Government office, Health club, Hospital, Hotel, Internet cafe, Library, Marina, Residential area, Office building, Office park, Other Park, Private club, Public space / public building, Residence, Rest area ,Restaurant, Rural area, Sports venue, Store / shopping mall, Train station, Truck stop, School / university, Phone booth, Business center, Training Center, Boat / Ferry / Ship, Car Wash, Tourist Attraction, Pub, RV Resort, Hotzone (Metro area, Mesh network)
HOTSPOT FOR A FEE OR HOTSPOT FOR FREE?
Many places operate free HotSpot. Such completely open HotSpot can be set up within minutes by using only a broadband internet access and a Wi-Fi router. The free internet service is attractive, but there are several adverse characteristics of this service, such as the number and the time of the access' can not be limited.
In many places the free internet access has become so popular, that their guests are visiting the coffee shop or the restaurant just for the sake of the free access, thus never actually becoming a customer. More over, the neighbors living in the close surround are overloading the system without ever paying a penny.
A lot of coffee shops and hotels turn to us with this problem. The bandwidth of the access, granted to each customer can not be limited either. Thus if someone uses the free Wi-Fi connection to download vast information, it will make the system unusable for other customers. That's why we developed a solution for these places so they can offer free Wi-Fi access using our hotspot software for Free Wi-Fi access where these problems will not occur.
SO WHAT IS THE SOLUTION?
Fortunately the risks of operating a HotSpot is very small because of its low costs compared to the opportunities it is providing, such as acquiring new customers or keeping the old ones longer. Whether you decide to provide free of paid solution you will need a HotSpot management to ensure that only the authorized people can access the wireless internet network.
This is where we step into the picture. With the help of our hotspot software you can easily create a HotSpot and the special software runs in the Wi-Fi router will automatically give out the accesses.
If you are thinking about creating free internet access for your customers, with the help of our HOTSPOT FREE solution you can offer free internet access while you can ensure that your network will be used only buy those who are authorized.
Should you want to create a HotSpot where customers have to pay a fee for HotSpot access, the system will work automatically. Your customer will pay for the access via the internet by a credit card or a PayPal account, that will provide him access to the internet for a period he has paid for (there is an option to use PrePaid cards too). Check out our HOTSPOT PRO solution for more information.
HOW TO START A HOTSPOT SERVICE WITH HOTSPOTSYSTEM.COM?
Please read our FAQ page, where you can find lots of useful information regarding the installation and operation the system. Should you have any other questions please turn to our Customer Service !