EARN MONEY simply, become part of the HotSpotSystem.com sales network! Get to know our "Instant HotSpot" and become our partner!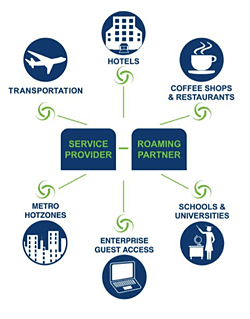 If you plan to offer our services to many client of yours, you can do this easily. We already have several partners (including ISPs) who make business with us and offer our services to their clients.
Download our White Paper and learn more about our company and the business opportunities.
If you need more information, contact us via our Help Desk.
Become a member of our network and have a share from the income of hotels and cafeterias and other HotSpot locations . Our company is continuously looking for sales managers on international territory, who would receive commission from the income of those HotSpot locations of which they have contracted.
Their job is to approach hotels, cafeterias and any possible locations of their area, to introduce our system and to close service contract with them. The high commission and part time work is an attractive business opportunity for many. You will be able to see the partners, who you have contracted, via the online affiliate system developed by us.
Basic requirement is medium level of computer literacy, and knowledge of the world of the internet. Familiarity with networking is an advantage. Contact us for more details about our system of commissions and partnership.
If you are operating one or more frequented web pages, that addresses our target group, then you can participate in the above commission without doing any extra work, only by placing our link on your web page. The link will contain your own code, by which you will be identified if a HotSpot location arrives and registers at us through your page. You will be able to follow the registrations through your page in the online affiliate system that was created by us. To get to know our business system, download our White Paper.
You can sign up online to get your personal affiliate URL which you can use on your web pages. The default commission for webmasters is 20% of HotSpotSystem.com's share which is 6% of the end user income in case of a 70-30% operator-HotSpotSystem.com partnership.
Get to know the "Instant HotSpot" program of HotSpotSystem.com and earn money with your system.